Admissions Process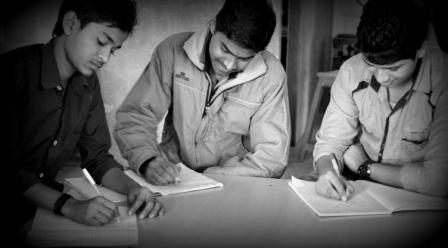 Admission to all Education colleges under HNGU-PATAN via simple online procedure conducted by Admission committee.
Before Online process begins:
(a) Candidates with at least fifty percent marks either in the Bachelor's Degree and/or in the Master's degree or any other qualification equivalent thereto, are eligible for admission to the programme.
(b) The reservation in seats and reaxation in the qualifying marks in favour of the reserved categories shall be as per the rules of the concerned Government.
Online Registration:
Register yourself online at www.hngu.net. Using a predefined user ID, complete the entire registration form by filling your personal detail and academic details. All category candidates can submit these details online and take a printout of registration form nearest help centre along with necessary documents.
Mock Round:
One mock round will be conducted in order to get acquired with the online process. Once the mock round begins, you will be shown all the possible of the choice of college that you are eligible for depending on your category/gender after logging in.
Other Rounds:
The regular rounds will also be conducted in exact same way as mock rounds. Once you are allotted a seat in round 1.If you are happy with that seat then you can proceed to secure the admission by paying the tuition fees either online or nearest State bank Of india branch by generating bank fee challan.
If you are not happy with allotted seat and wish to go for next round. Same process applies to second & third round. After then offline round may be conducted by HNGU-PATAN.
Vacant seats at institute.
A list of seats still remaining vacant after completion of all online and offline round will be online show by HNGU.
Intake:
There shall be a basic until of one hundred students divided into two sections.
Duration:
B.Ed programme shall be of duration of at least two academic year or four semesters.
Internship:
In internship apart from teaching experience in school, the trainee-teacher should function as a regular teacher in a school (i.e. taking attendance in staff meeting, preparing written work, e.g. Notices, examination papers, letters to parents, maintaining of school records etc.)
Eligibility criteria
Any Graduate with subjects, Science, Commerce, Arts and Computer is eligible to B.Ed.