Mechanical LABS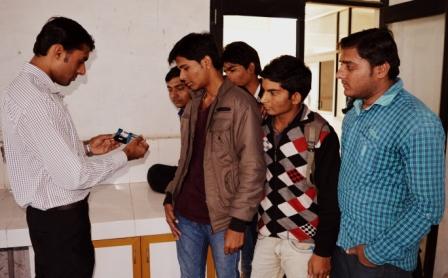 FLUID MECHANICS AND MACHINERY LAB

The students are introduced to the mechanics of fluids through an understanding of the properties of the fluids. The dynamics of fluids is introduced through the control volume approach which gives an integrated understanding of the transport of mass, momentum and energy. The applications of the conservation laws to flow though pipes and hydraulics machines are studied

MANUFACTURING TECHNOLOGY LAB – I

To gain hands on experience on working of general purpose machine tools and on various manufacturing processes.

MANUFACTURING TECHNOLOGY LAB – II

To give a practical hands on exposure to students in the various metal cutting operations Using commonly used machine tools

APPLIED MECHANICS LAB

To supplement the theoretical knowledge gained in Mechanics of Solids with practical testing for determining the strength of materials under externally applied loads. This would enable the student to have a clear understanding of the design for strength and stiffness

COMPUTER AIDED MACHINE DRAWING LABORATORY

This lab helps students to understand and interpret drawings of machine components so as to prepare assembly drawings either manually and using standard CAD packages and to familiarize the students with Indian Standards on drawing practices and standard components.

THERMAL ENGINEERING LAB

To integrate the concepts, laws and methodologies from the first course in thermo dynamics into analysis of cyclic processes and to apply the thermodynamic concepts into various thermal application like IC engines, steam turbines, compressors and refrigeration and air conditioning systems

DYNAMICS LAB

To supplement the principles learnt in kinematics and Dynamics of Machinery and to understand how certain measuring devices are used for dynamic testing.

METROLOGY AND MEASUREMENT LAB

To understand the basic principles of measurements, learn the various linear and angular measuring equipments, their principle of operation and applications. It also help students to learn about various methods of measuring Mechanical parameters

Workshop lab

This lab is common for all branches of 1st year students with facilities for the group of 30 students to carry out experiments independently. Workshop lab for 1st year is very useful because it provides a basic knowledge of machines, welding, carpentry and fitting.
Major Equipment in Workshop Technology lab:- Lathe machine, Shaper machine, Surface Grinder, Milling machine, Welding machine for arc and gas welding.